A Series of Workshops on Peace and Conflict Studies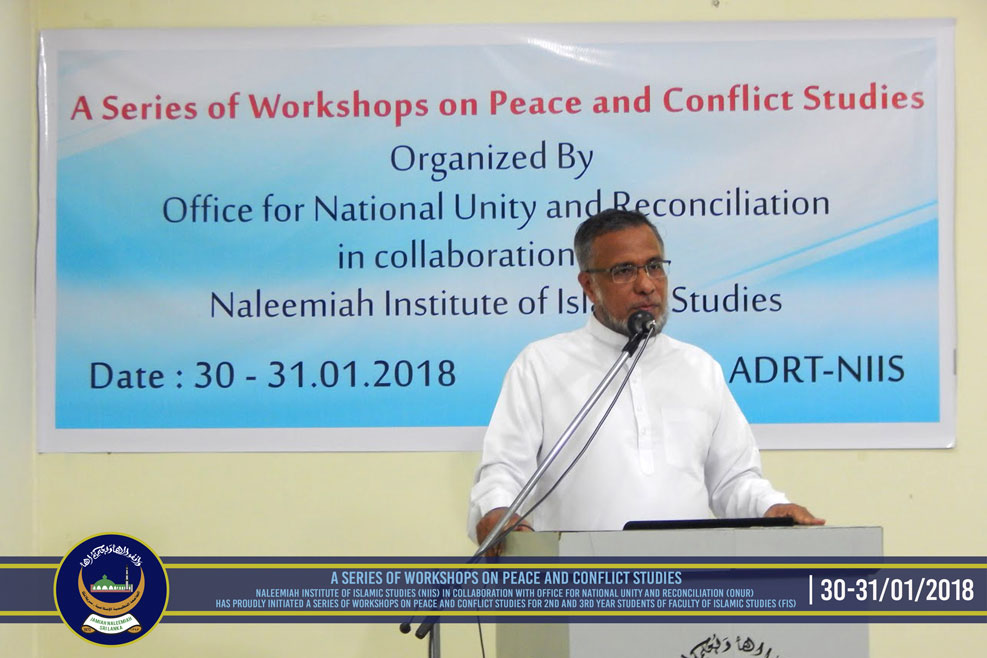 Naleemiah Institute of Islamic Studies (NIIS) in collaboration with Office for National Unity and Reconciliation (ONUR) has proudly initiated a series of workshops on Peace and Conflict Studies for 2nd and 3rd Year students of Faculty of Islamic Studies (FIS), of which inauguration was held on 30th of January 2018 followed by session 1 on the topic "Dealing with Diversity" on the same day. It's noteworthy that this programme is one of the successful initiatives that NIIS holds in order to promote national unity and reconciliation and to minimize dilemma of conflicts.
Deputy Director of NIIS Ash-Sheikh A.C.Agar Mohamed addressed the inaugural function where he revealed the purpose of the initiative and his belief in sustainable changes through education, research and training.
Ash-Sheikh MRM.Arkam, Ash-Sheikh Hassan Sulaiman and Ash-Sheikh RM Rasheed participated in the sessions as facilitators.
Session 02 of the series dealt with "Understanding the Concepts of Conflict" was held on 31.01.2018.